Clover Manufacturing is a great company to go with when it comes to Notions. They really have their finger on the pulse of what we as quilters are looking for. Maybe they have the same addiction as we do and want to share with us the things they like? I sure hope they do!

Press Perfect Hemmer. Fold, measure, press hems and more in one step.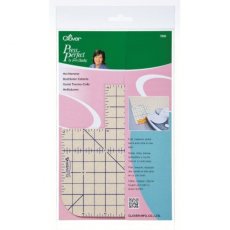 Clip and Glide Bodkin
Clip provides firm hold on elastic end! Long flexible bodkin pulls elastic through casing with ease!




Hold it Precision Stiletto, heat resistant to hold while sewing or pressing.




Point 2 Point Turner
Turn every point perfectly.




Iron Shine Cleaning Pen
Remove adhesives, starch build up from soleplate.




Desk Needle Threader
Quick Threading with Desk Needle Threader!



Wonder Clips
Great Holding Capacity for many crafts. 50 pieces -assorted colors.



Wonder Clips Wrist Cushion
Clip 'n Stow
3 Wonder Clips are included.


---
Kimberbell has some of the funnest projects! Each book contains 10 seasonal projects- perfect for teaching classes, knitting, and more.




Taylor Made Designs has come up with such a darling quilt for a baby. Great if you are not sure what you are having or if you want to use the blocks as wall hangings. So versatile and a great value.




The kits are quickly leaving the store if you are in love with the Horse Walk About Quilt. You are able to order them on our website also.




A closeup of the horses


This is the pattern we used to make the above quilt. We modified it just a little but it looks gorgeous either way.
Highlight your favorite large prints or batiks.


---
July 4th is fast approaching and we have a fast and easy wall hanging that you can decorate with.


---
Aurifil Thread collections-



SHOP

while they last-

Regularly 169.99

NOW

119.99
(while supplies last)

Aurifil doesn't stand out in the crowd by being like everybody else. Their superior quality cotton threads set them apart. - Mark Lipinski

This collection is called Simplify by Camille Roskelley. 12 colors ~ 50 wt. 1422 yards each.

When you purchase this collection, Use the QR code for a special offer if you use this thread in her Craftsy Class.




The Basics Collection

12 spools of 50 weight cotton thread in 12 amazing colors.


---
We have now become part of a New Row by Row Shop Hop.




A shop hop type event with no fees, no passports and all summer to play? Simply visit any of the participating shops and receive a free pattern for a row in a quilt. Combine your rows in any way to create a unique quilt that represents the fun you had traveling throughout the summer. Travel with friends, discover new quilt shops and have fun collecting rows! you can go to https://www.facebook.com/pages/wyoming-row-by-row-experience -to see what everyone is doing.

Prizes, collectibles and more fun!

Create a quilt using at least 8 different rows and be the first to bring it into a participating shop to win a stack of 25 fat quarters (6 1/4 yards of fabric) Use that shop's row in your quilt and win a bonus prize!

Travel & Collect Rows: June 21- Sept. 8
Bring in Completed Quilt for prize: June 21-Oct 31

You can also purchase starting June 21 these fabric sewing plates from each participating shop and make a quilt out of them too.

This is our plate- Sew-anywa


---
Thank you for all that attended the Quilting on the Green in Green River. Also, thank you to all the committee that organized the Show. They did a fantastic job!


---

The Southwest Region of the Wyoming State Quilt Guild will be hosting the East Meets West Quilt Show in Rock Springs. June 25-28, 2015. They will have a vendor mall, classes, and a truck show from a National Teacher. We will post more on this show in June.


---
Angie's Amazing Answers


Store Hours:
m-f

10:00 am - 6:00 pm
sat. 10:00 am - 5:00 pm
VALLEY FABRIC SHOP



102 Mountain Meadow St.
Lyman, WY 82937
307 786-2653
www.valleyfabricshop.com