Go

BIG

for your home!

Come join us for a night of inspiration, demos, decorating ideas and much more.
March 26, 2015 @ 6:00 pm

Free! No Charge!

---



Saturday Sampler

- March 14, 2015 @ 8:00 am and 9:00 am.

Even if you are not part of the Saturday Sampler Club, come see what we have featured.

Scallop Magic! Inspiration to get your creative juices flowing! The possibilities are endless. Customize your projects effortlessly with pre-printed panel scallops.

This is just one example of what we have made.


---
We just can't resist Minnie Mouse! Just In!!!


---

Now I know you all are wanting to see the beautiful flowers and the green grass, but we just can't get away from a little "Frozen" quilt!




We also have a No-Sew Fleece Throw Kit- Regularly 27.99, Now 19.99. A great gift for your Easter basket and to keep the kids busy during Spring Break.




Also, did you know there will be a

sequel

to "Frozen" coming soon? Pretty exciting, huh?

---
This is the

cutest

bag!!! Big enough to put your new fabric in.


---

Mar 14 @ 8:00 am and 9:00 am ~ Saturday Sampler. This is our third month of the year, so it isn't too late to join. We have some beautiful blocks for you to choose from, or just sew them all! If you need to take a look at last months blocks, go to www.valleyfabricshop.blogspot.com.

---

Instructor Josephine Keasler will be teaching 2 classes, April 17, 2015 (friday) @ 11:00 am and April 18, 2015 (saturday) @ 9:00 am.

Friday she will teach the Convergence Quilt-

Using Ricky Tims method of bringing 4 pieces of fabric and having them converge into each other, this class uses a panel and 3 fabrics that merge into one spectacular quilt. No pattern is needed for this class. You will be making a one of a kind quilt based on your choices of fabrics. It's easy and can be done in a day. The panel and the other three pieces of fabric need to be the same size.




Saturday she will be teaching the Fractured Paint Box-

This Judy Niemeyer quilt was designed to introduce quilters to paper piecing! The project is fast, uses only one foundation block, employs simple cutting techniques, and is a fun way to jump into your first paper piecing project! It is meant to make those new to the process find confidence, understanding, and success! Experienced paper piecing students will find this a relaxing quilt to make. It uses 2 1/2" strips and can be made from a jelly roll or your personal stash. Pattern is required.


---

Angie's Amazing Answers

A great way to organize your fabric!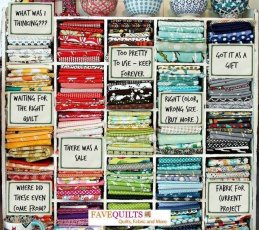 After you organize your fabric sit down and enjoy a piece of cake.



This is a great cheat sheet.

Store Hours:
m-f

10:00 am - 6:00 pm
sat. 10:00 am - 5:00 pm
VALLEY FABRIC SHOP



102 Mountain Meadow St.
Lyman, WY 82937
307 786-2653
www.valleyfabricshop.com