Valley Fabric
and The Bokay would like to invite you to the "The Christmas Extravaganza" on November 14, 15, 16 from 10:00 am to 6:00 pm on Thursday and Friday and on Saturday from 10:00 am to 5:00 pm.

All bolted fabric is 20% off (1/2 yard cuts or more) and 1/2 off remnants.

We will be having daily demonstrations and gift ideas for your special quilter along with everyone on your Christmas list. Make sure you ask about the new awesome patterns for your 60 degree ruler. (If you don't have one yet don't worry, we have them here for you.)

The Gypsy Quilt ~ Want to show off those incredible large scale prints? Want a fast, fabulous bed quilt? You need Gypsy!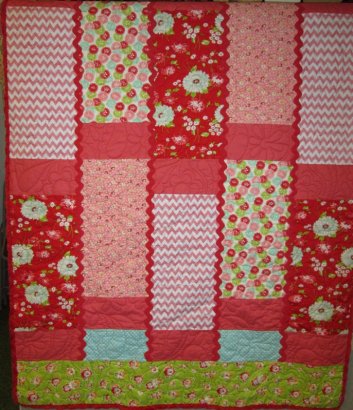 So cute and easy!

Row by Row Minkee Quilts- November 23, 2013 @ 9:00 am- Learn to make these gorgeous and comfy quilts without having to send it to the quilter. They are quilt as you go.
Stargello
- November 9, 2013 @ 10:00 am- Using the Jewel Box Gem Thirty Tool (Required for class).


6 So Simple Baby Blankets- December 5, 2013 @ 6:00 pm- The blankets were designed with super soft cuddle fabrics in mind and can range from lots of fun to very elegant.
Here are a few Quilt tips....
Have you ever stabbed yourself with a pin then got blood on your fabric? Well if you ever do that again, just get a bit of your own saliva on your finger and rub the blood away.
Presto, the blood is gone!
The Bokay
The Bokay has so many decorating ideas and these Harley Davidson Santas are just darling!

Who would not love having this tree up in their house? Let The Bokay help you out this year!
Cider Spices

~ Try our spices in apple pie, muffins, sugar cookies or carrot cake. Sprinkle over fruit, ice cream, pancakes, yogurt and pudding. You can even put a little in BBQ sauce, and sweet marinades. One of my favorites is to fold it into cream cheese for a sweet spread!
The Bokay has

Yankee Candles

and we have so many fragrances to compliment your Holiday season!

Do you need a

Holiday Centerpiece

or a

door decoratio

n

to greet your guests? We can make up any arrangement you request! Maybe surprise a special guest with an arrangement made from a personal belonging.