Are you ready for the Fall Frenzy?
Save the date for September 17, 18 &
19.
Then on Thursday the 18th at 6:00 pm, we will be having a Minkee Madness Event.

There are just so many things that you can do with Minkee! Let us show you how to make quilts to slippers in Minkee!
What goes on when you have a Minkee Madness Event...... you get a

SALE

! We will also have selected Minkee on sale for $10.00 per yard.

The

sale

will include all bolted fabric at 20% off (1/2 yard cuts or more), remnants are 50% off.

This Fall Frenzy is to get you inspired, teach you new sewing techniques with fun projects to either keep for yourself or get a jump on your Holiday gift giving.
---

We have 2 new collections of Minkee in.. They are just so gorgeous you just want to snuggle into them.


---

We have made a few new Halloween quilts and wallhangings. They are sure to get your spook on! Kits are available.

Cheeky Pumpkins Quilt




H'OWL'oween Quilt




Happy Harvest


---
NEW ITEMS
Charm Packs





Here is a look at all the fabrics in the Charm Pack.




Charm Packs and Jelly Rolls




Zirkel Pin Cushion

This may be the most entertaining way to keep your pins ready to use! Zirkel is a magnetic pin holder that almost magically fans out and separates your pins so that the are always easy to grab. Just drop them from above and Zirkel does all the work. It's also weighted so you can use it as a paperweight, too. Our favorite application is with pins, but you can hold any small metal objects with your Zirkel - try paperclips, bobby pins, nails, safety pins, needles & more!




Snack Shack Hot Pads

My all time kitchen favorites! So simple to sew: just layer, stitch & cut. these soft and flexible hot pads make it easy to grab any kind of pan.





Purple Rotary Cutter

There's no reason to struggle cutting through multiple layers; it's hard on the material and hard on you. This OLFA® rotary cutter is ideal for medium to heavy-duty projects. It can accommodate up to six layers of thin materials.


---
THE BOKAY



Take a look at the NEW merchandise.
It is coming in DAILY!


Fall Centerpieces along with all the other decor you will need to make your home smell and feel cozy!


"

BUTTERED MAPLE SYRUP

" CANDLE by
"Crossroads"

"The yummiest candle ever"




9 Fabulous Flavors of Popcorn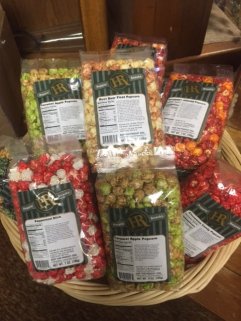 These mint tins just arrived today. Be the first to be sporting a darling tin!




Aspen Mullins

A delicious combination of spices that makes ordinary cider - extraordinary. Come in for a sample and free recipes on Thursday night at the Fall Frenzy at 6:00 pm.


---
Store Hours:
m-f

10:00 am - 6:00 pm
sat. 10:00 am - 5:00 pm
VALLEY FABRIC SHOP



102 Mountain Meadow St.
Lyman, WY 82937
307 786-2653
www.valleyfabricshop.com